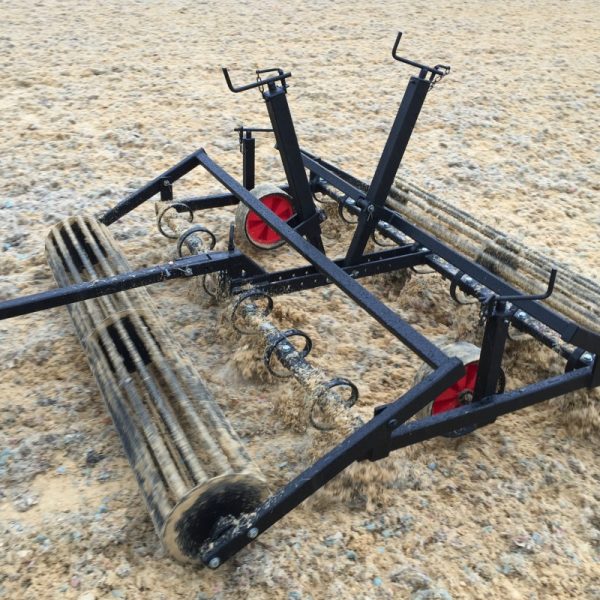 Arena King
£1,640.76 inc. VAT
description
Description
The Chapelstone Arena King has been designed for fibre based arena surfaces to help keep them in the best possible riding condition. Built in partnership with one of our local suppliers, we have tested this incredibly effective arena rake on many surfaces, including Chapel-fibre, Clopf and waxed surfaces. Used on a regular basis, the Arena King will give you years of troublefree service and keep your arena riding surface in great condition.
The working width is 60″ and the unit is fitted with two crumble rollers, one at the front with a square type roller assembly to help break up any lumps that may have formed and a second at the rear with a round type roller crumble bar to dress the surface ready to ride. In between the two crumble rollers are two sets of off-set heavy duty spoon shaped spring tines. These act in a plough like fashion to lift and turn the surface, reviving the feel of the surface ride.
Two solid transport wheels are incorporated into the design for easy manoeuvering to and from your arena. The Arena King is fitted with a tow bar that has two settings. so that it can be put into a fixed position for transport or a floating position with pin removed for levelling.
Aftercare of your surface is one of the most important activities you can carry out to maintain its performance. Surfaces change as they are dynamic and respond to workload and weather conditions.
Click here to see the Arena King in action
Price includes delivery to England only – please contact us before you buy to check that you are in the correct delivery area. We may have to levy charges for areas outside our free delivery zone.
Price for three-point linkage version available on request. Please state category of linkage at point of order.
NB These products are built to order so please allow 2 – 3 weeks for delivery.
reviews
You may also be interested in...